Timbany

Monkey

Weapon:

Mostly Bows and Axes

Gender:

Male

Race:

Animal, Monkey

Home:

Ultai
Timbany is like Djarma's pet, he follows him and is one of the first playable characters in Laxius Force series.
Overview:
Timbany appears in the pyramid if you release him from his bag in the item menu, he appears and joins Kratin and Djarma. He can throw stones in battles. He joins in Laxius Force III when Random goes to Ultai.
Battle:
Timbany can be very powerful when he is in his Gorilla form, his physical attacks can deal big damages in the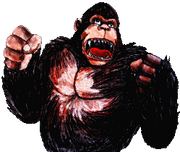 enemies.
Trivia:
Timbany can morph into a big gorilla if he uses his skill Morph at LV18