Millennium 5: Battle of the Millennium is the fifth installment of the Millennium series created by Aldorlea games.
Marine sees an opportunity to improve the life to those living in the country by challenging those in power in the oppressive city of Mystrock via an ancient martial law.
This law states that if 13 warriors are able to defeat the 13 in power they have the right to establish a new government. As such, having already enrolled all her 13 warriors, Marine is now making the best of her short time until the showdown training herself and her friends so they don't look like fools when they're face to face with their opponents in the arena.
Marine's secret weapon to all is a little fairy called Jeanne who has been helping her throughout her journeys.
Marine convinces the Bear - the most powerful of her 13 warriors - to take them all to a place not know by many, so they can train without fear of further Mystrock interferences.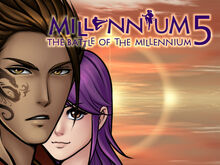 Characters
Edit
The Good Side
Edit
The Evil Side
Edit