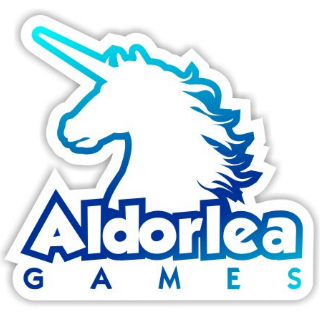 Aldorlea Games is an independent game company founded in 2008 by Indinera Falls.
The company develops 2D RPGs for the PC.
Overview:
Aldorlea started out in August 2008 with the commercially successful RPG Laxius Force.
The company has developed a total of 27 games so far, several of which are included in game portals such as Big Fish Games, Yahoo! Games, Iwin, Gamersgate or GameStop.
Besides developing their own titles, Aldorlea Games also distributes other companies' games through its portal.
Games Released:
Laxius Force I - Heroes Never Die
Laxius Forc II - The Queen of Adretana
Laxius Force III - The Last Stand
Millennium 1 - A New Hope
Millennium 2 - Take Me Higher
Millennium 3 - Cry Wolf
Sylia
Millennium 4 - Beyond Sunset
The Book of Legends
Moonchild
Opaline
Millennium 5 - The Battle of the Millennium
Onyx
Undefeated
Girlfriend Rescue
Tale of a Common Man
Elendia Ceus
A Timely Intervention
The King's Heroes
You and Who Else?
Witch Hunt
Little Hearts
Shadows & Lies
Fortress of Hell
Games Distributed:
Aveyond - Rhen's Quest
Aveyond 2 - Ean's Quest
Aveyond 3-1 - Lord of Twilight
Aveyond 3-3 - Gates of Night
Aveyond 3-4 - The Lost Orb
Aveyond 3-5 - The Darkthrop Prophecy
Ella's Hope
The Witch and The Warrior
Dark Souls
Dark Souls 2
Kara's Quest
The New Queen - Truth Be Told
Last Heroes
Last Heroes 2
Last Heroes 3
Last Heroes 4
Vagrant Hearts
Vagrant Hearts 2
Jade's Journey
Jade's Journey 2
Grimoire Chronicles
Blood Ties
Planet Stronghold
Curse of Slate Rock Manor
Deadly Sin
Deadly Sin 2: Shining Faith
Dawn's Light
Dawn's Light 2
Jack of All Worlds
Lilly and Sasha: Curse of the Immortals
Lilly and Sasha: Nexus of Souls
Hero's Tale
Eternal Twilight
Eternal Sunrise
Infernal Veil I
Infernal Veil II
Unseen World: Magical Lense
Sacred Soul
Story of the Sealed Steel
Virtue - Espiritus
Eternal Eden
The A. Typical RPG
The Fall of Gods
Fated Haven: Chapter One
Arvale: Treasure of Memories Episode I
Arvale: Treasure of Memories Episode II
Arvale: Treasure of Memories Episode III
Whisper of a Rose: Gold
Vastar
Rainblood: Town of Death
Arevan - The Bitter Truth